Paradise Lost: The band, not the poem
Original Post: February 19th, 2016
Many hear the name "Paradise Lost" and think of the famous poem written by English poet John Milton in the 1600's, I believe. There have also been movies and likely books titled the same or very closely related. That is all fine of course as it's a great two-worded title.
The band Paradise Lost was formed in Halifax, England in 1988 by singer Nick Holmes, guitarist Greg Mackintosh, guitarist Aaron Aedy, bassist Steve Edmondson, and drummer Mathew Archer. Between Lost Paradise (1990) and, most recently, Tragic Idol (2012), they've spent twenty two years racking up thirteen studio albums and four live recordings despite very little media support. In 2013, the band announced that they have begun work on a fourteenth studio album.
I picked up the One Second album in 1997 after a coworker of mine suggested them to me when I said that I was looking for a band that was heavy, yet melodic. They fit like a glove for that point in my life. This as even more true with the One Second album in particular being higher in tempo. I then grabbed its predecessor, Draconian Times (1995). The album's opener of "Enchantment" starts with a thirty second long piano introduction, the second track "Hallowed Land" starts with a very distorted but pretty guitar riff and the fact that Draconian Times was (is) so much different from One Second in that it was much slower in tempo and much darker. I knew I had found a band that was much different than other bands I was into at the time. Being only 18 years old at the time, finding my musical identity was pretty important.
The band released Reflections, a compilation, in 1998 and little did I know that would be it for Paradise Lost releasing physical CDs in the United States for some time. There isn't a wealth of information as to why, other than record label issues, but they no longer had a US distributor. Thus, no more physical albums were to be released in the United States itself. Keep in mind that the year was 1998, Cdnow was still (as I remember) the top online music store as Amazon hadn't acquired Cdnow until 2001 or so. I also remember that due to legal reasons, cdnow.com was still based in the United States and therefore wasn't able to carry (among other things) any future Paradise Lost album. Note: if this information is incorrect, please comment and correct me. Credit will be given.
This opens up my own personal facts on how the band that still receives very little or no media support still continues to thrive. Like many bands of many different genres that have achieved longevity and survived often decades, they seemed to work hard (and patiently) building a very strong and loyal fan-base. They chose the "solid, brick-by-brick" approach rather than what seems to be more common in current times: "as fast as we can with straw or anything we can find". When Paradise Lost's music went to strictly overseas, I was still hungry for more of them. I heard a few songs of their Host (1999) album that had taken a much softer, melodic direction and was immediately intrigued considering I love many genres of music. Nick Holmes' voice was cleaner and it sounded more mature. I don't remember which website it was but I had found a UK copy of the album and ordered it despite the much higher shipping cost. In fact, I believe any album I bought the UK version overseas cost me nearly double what it would have been if I had bought it in the United States. Even so, when the Host album came, I was as excited as a boy getting a shiny new bike.
This method continued with their Believe In Nothing (2001) and Symbol of Life (2002) albums. Symbol of Life, I remember, I was particularly shocked by when I threw it in. "Isolate" started and I just slowly sat down as they seemed to have gone back toward a higher tempo and heavier direction. Symbol of Life was also eventually assigned to Koch Records in the United States, but I still had bought the import a year before it was available. Music addiction.
2005 brought their self-titled album produced by Rhys Fulber (of Conjure One, Delerium, formerly of Front Line Assembly, and had worked with the likes of Fear Factory, among others). Fulber had also produced the Symbol of Life album. Paradise Lost (self titled) was a continued progression back toward the earlier days. Though early albums like Lost Paradise were very much in the vein of death/gloom metal, they were headed back in the direction of Draconian Times, or at least that's my opinion. It seemed that their days of experimenting with a lighter, progressive metal style had ended and (to date), that seems to be true.
Paradise Lost officially returned to the United States via, my opinion again, one of the most important independent (and eventually international) metal labels that has been conceived: Century Media Records who released Paradise Lost's eleventh studio album In Requiem in 2007 which was, again, produced my Mr. Rhys Fulber. If there was any doubt that the band may backtrack to the softer style, In Requiem and songs such as the ultra dark "Praise Lamented Shade" proved otherwise. The cover also featured what had become iconic of Paradise Lost: dark, unsettling, and ultimately very well done.
Faith Divides Us, Death Unites Us (2009) was introduced to the world and Nick's vocals pulled back to a more strained and pained, yet melodic style while songs such as "As Horizons End" proved that Paradise Lost isn't through reinventing themselves. Even I was guessing they'd pull back completely to their doom metal origins, but yet they took a hard left (or right if you wish) into new territory and somehow made doom beautifully, darkly melodic and inspiring.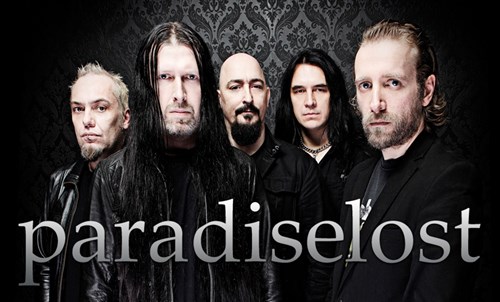 Their thirteenth, and most recent, body of work titled Tragic Idol is possibly one of their heaviest albums since the pre-Draconian Times days (albums such as Lost Paradise, Gothic, Shades of God, and Icon). The song "Crucify" especially really quite surprised me in guitar riffs as it pulled apart from Aaron Aedy's rhythm guitar style. It's much heavier with more hooks and pull-offs than he normally uses.
What Paradise Lost has been up to
According to the bands official website, ParadiseLost.Co.Uk, they are continuing to work on their fourteenth album but do have quite a few concerts in the near future, which is not surprising considering Europe's summer festival traditions:
M'era Luna Festival - Hildesheim, Germany on August 9th
Vagos Open Air - Vagos, Portugal on August 10th
Alt-Fest - Kettering, UK on August 15th
For tickets and other dates across Europe, please visit Paradise Lost