Rhys Fulber has grown a tremendous reputation for being one of, if not the most, hardest working musicians in electronic/industrial music. This is also hardly a fresh development that arose a year or two ago, but a tough grind work ethic that has continued since his initial joining with Bill Leeb in 1986. Leeb had just left industrial band Skinny Puppy to form the very start of Front Line Assembly. Since then, and to date, he has either been an official member of or worked with: Delerium, Conjure One, Fear Factory, Nailbomb, Fauxliage, and many others. Now, he's added a solid solo album to that list.
Release Date: June 4th, 2018
Tracklisting:
Cognitivia
Limited Vision
Inhabits Eternity
Creostate
Anhedonia
Truncheon
My Church
The Sick
You Can Kill Them or You Can Feed Them
Rhys Fulber's Your Dystopia, My Utopia Delivers Instrumental Industrial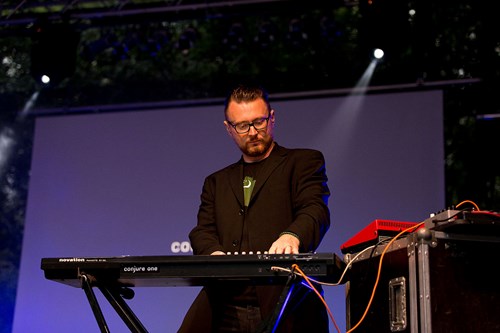 Rhys Fulber for Conjure One at Nocturnal Culture Night in 2015
A Brief Backstory
When I originally started a review for Rhys Fulber's "Your Dystopia, My Utopia", I didn't want to give only a brief back story as his is so interesting and jam packed with musical achievements and acomplishments, numorous projects that are astonishing in their own respect, etc. However, that quickly turned into, what should be, an artist feature and there aren't enough on TMP yet. So, a more brief description is what you get for now as to not take up so much of your time.
In short, Rhys Fulber started up (at least on paper) with Bill Leeb after he left Skinny Puppy to start Front Line Assembly (FLA). He appeared as a musician on FLA's debut, The Initial Command, in 1987 but hadn't yet become an official member of FLA yet. After Michael Balch moved on to other projects, Fulber joined Leeb as the other half of the duo. This is a wonderfully important period condidering industrial music was still in its infancy or maybe toddler years in 1987 and late 80's.
Please forgive me for the dreaded list of what this amazing musician, producer, and artist has accomplished.
Front Line Assembly (1986-1988, 1989-1997, 2002-2006, 2014-2018)
Delerium (1989-Current)(On and Off)
Conjure One (1997-Current)(Sole Member)
Solo Work (2017-Current)
Has produced, been a guest musician, joined on stage with...
Fear Factory
Nailbomb
Die Krupps
Machine Head
Mindless Self Indulgence
Celldweller
---
Your Dystopia, My Utopia
Cognitivia. Cognitivia is a song that shows Fulber's influence on Front Line Assembly's patience in building up a song through elongated introductions. Industrial, or at least gritty/dirty, percussion provides the seed in which the song's introduction beings. Melodies are eventually introduced through synthesizers. These are very beautiful and dark chords over the top of sequenced arpeggios that is one of his trademarks. Though it runs only five minutes and forty seconds, I'd imagine it being great to listen to for meditation or relief of anxiety. It provokes the listener to close their eyes and leave this world, envisioning whatever they proceed to envision.
Limited Vision. Limited Vision follows a similar paradigm of elongated introductions, though not quite so long. Perscussion wise, it seems to be more based in rave/trance or even electronica. Joining are the dark arpeggios as this song is a little "harder" than Cognitivia. Spacy chords, melodic chords, highly digitized vocal sampeles, and more architect a wonderful atmosphere that seems to life upward rather than stay darkened.
Inhabits Eternity. I would anticipate that most listeners would note that the crafting of this song isn't as much for melody as for dance-like percussive beats and very strong sequencing. Vocal samples repeat in a nearly Ministry sort of way, "I've wasted a lot of time". Creosote. Though starting again with simple dance/trace-light beats, it adds a quick surging into deep but dirty bass sequencing that may remind many of late-1980s Front Line Assembly. In fact, it's very along the path of older Front Line Assembly, when Fulber was a full time member. My Church. Very hard drums, sequencing, dark chord progressions lift this song up with an interlude of "this is my church, this is all I need".
The further you dive deeper into Your Dystopia, My Utopia you realize why this is under his name rather than Conjure One. The latter is a very different sound. Fulber's solo work is 100% instrumental, unless you count digitized vocal samples, darker, and more industrial-eque. Conjure One is actually a direct departure of his history with electronic sound. Other notable tracks: "The Sick" and "Truncheon"
Rhys Fulber's Your Dystopia, My Utopia isn't going to hook or even impress most of the people out there. However, for fans of many different so-called "underground" genres, this is an important album from a very important and influential artist. Whatever he does next, I'll be watching. I also highly recommend this for those likeminded people.
Delerium
The Various Rhys Fulber/Bill Leeb Projects